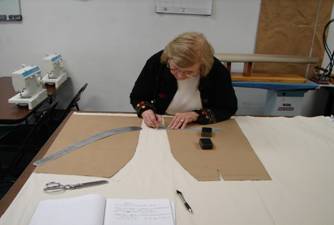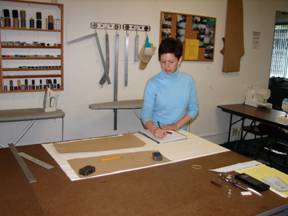 The two classes you will take is the Tailoring & the Fashion Designing. The tailoring class
will take you from basic sewing into the correct way clothing are to be constructed. The fashion
designing class is the pattern drafting. Because all clothing that you will make you must
made the pattern for them.



We will offer great hands-on Basic Sewing, Tailoring and Pattern Making classes.
These lessons are designed for people who just want to sew or desire to make or alter
clothing for themselves and their families.

As well as, people who seek entrepreneurship to open their own Custom Tailoring and
Dressmaking shops. People who wish to open and run an alteration shop, or to create
their own line of clothing would truly benefit from these courses.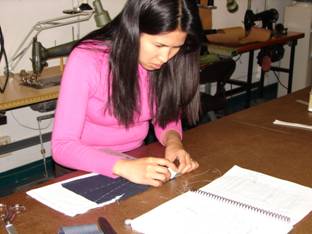 ---
---
---
Click Here For Registration
---
If you are serious about sewing and designing, Don't Be Left OUT! Let us teach you the professional
techniques of sewing and designing. These great Hands-On classes, will take you step by step
covering every intricate detail of the Master Designer's craft.

Stop wasting your time and money, on non-professional classes taught by
inexperienced instructors. Learn from an expert, how to become an expert.

Don't be Scared! We will be gentle.
---
The Sewing / Tailoring & Pattern Drafting skills that you will learn
in each semester will be ultilized in the up-coming semesters.
Refer to the syllabus to see the order in which the classes are taught. Click here for Syllabus
---
---
---
---
---
---
Click Here For Registration
Basic Sewing / Tailoring
Non-sewers, beginners, intermediate, and advanced sewers, all are welcome, to learn
how to sew from the Master Tailor-Designer Eric W. Stiles Sr.

Learn most of the special techniques that all top European and Domestic designers use
in their clothing construction, fitting, and pressing. Correctly ripping apart seams will
also be demonstrated and taught. Stop making those "Homemade Looking"
clothing, learn how to make them like the professionals.

No sewing experience is required. Some supplies are required. Enrollment is limited.

---
Click Here For Registration
---
---
---
Fashion Designing
(pattern making)
Eric W. Stiles Sr. will teach you the formulas used, to draft patterns from beginning to end
for Ready-To-Wear and Custom garments. Stop wasting time and money using Commercial patterns.

Learn to make your own, then start designing your own line of clothing that will fit and enhance your body.
These are the same formulas used by all top European and Domestic designers in the world.



Product and Development, a procedure used to help the designer improve and complete their patterns,
will be taught. It's highly recommended to take the Tailoring and the Fashion Designing classes
together, to enhance and maximize your skills.

No sewing experience is required. Some supplies are necessary, and enrollment is limited.

Please call me at 708-424-4397 for more detailed information.


---
---
---
Length of Course / Program:
Each class runs one day a week for six weeks. (One Semester)

Then you would go into the next semester, then the next and so on. Each semester will continue
from where you left off, teaching you additional techniques in sewing and designing.

Length of each class session:
Basic Sewing - Tailoring and the Pattern Drafting classes together runs for 2-1/2 hours per day, for six weeks.
Audience for program:
These classes are intended for students 14 years to adult.


---
---
---
Click Here For Registration
---
---
---
T E S T I M O N I A L S
SEWING, TAILORING & PATTERN MAKING
Classes


- - - KIMBERLY J- - -
I am amazed at the level of skill I have achieved since
attending these classes. I have constructed numerous garments that are
well-tailored and very flattering. It is such a wonderful feeling to
receive compliments on my clothes and to be able to
say I made them myself!

Mr. Stiles is an excellent instructor who takes time to work with you
one-on-one and is quick to respond to your concerns. He is enthusiastic about
his classes and eagerly shares his vast knowledge and expertise. I highly
recommend this class to anyone interested in sewing;
it is a rewarding and practical investment.



- - - ELI - - -
Click the link below to view this review.
Classes Reviewed
- - - JOY - - -
Dear Eric, I have attached my check for Saturday classes starting in January.
I hope I can get into the class. If there is no available seat, please put
me on the waiting list for Saturday classes.

While waiting, I will continue taking your classes at OAKTON on Thursday night.
I plan to be your student until I learn everything from you. I really enjoy you classes.



- - - SUE - - -
I really appreciate that everyone can go along at their own speed.
No one is held back, no one is rushed.



- - - SHARON - - -
Class is very challenging. I love how the projects evolve excellent
demonstrations. I am interested in taking more classes.



- - - CHRIS - - -
There's so much to learn and so much you think you know and find out
you don't. Even if you've sewn before this course is essential to
get rid of bad habits, as well as, teaching you new concepts.

I've found that everything is paced for you. You are the person
who learns and you've never rushed. THANK YOU !


---
---
---
Instructor's Professional Credentials:
Eric W. Stiles Sr. Master Tailor, and Designer with over 30 years experience. He
was former Supervisor and Head Tailor for:
Giorgio Armani, Polo-Ralph Lauren, Bigsby & Kruthers, Brittany LTD., Robert Vance,
Turner Bros., Whitehouse & Hardy, and others.

Mr. Stiles taught for five years Tailoring & Fashion Designing at these seven colleges:
Prairie State, Moraine Valley, South Suburban, Daley, Kennedy King, Triton, and Wright

Mr. Stiles left the colleges to open his fashion academy, the EWS Tailoring & Fashion Design Academy,
in Chicago. He has been teaching Basic Sewing, Tailoring, and Pattern Making classes since 1995
to the present, at his academy.


---
---
---